When we wake up in the morning, most of us check our phones. Try as we might to detox the day as much as possible, "smart" phones now make modern life possible, particularly when we're working.
I've been working at the Australian Open for the past two weeks, and waking up to the kind of abuse that, no matter how often I'm subjected to it, never gets easier to read.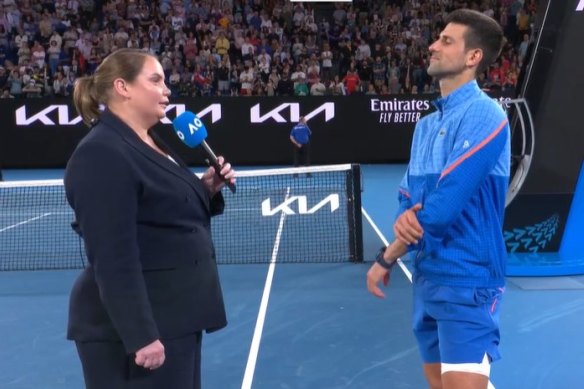 Please let me do my job in peace. Credit:Channel Nine
Now that the Australian Open is on again, will Jelena try to kill herself like she does every year?
That one actually came with a laughing emoji.
You were lucky that your father abused you because it was good for your career.
It's hard for me to wrap my head around how someone can even think that, let alone say it, write it, send it, publish it.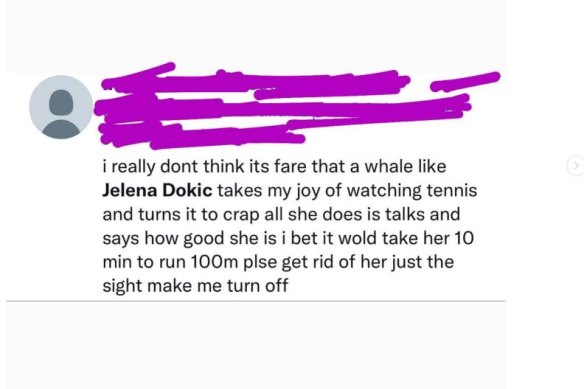 InstagramCredit:
No matter how hard I try to work on my commentary, my interviews, my reporting on the tennis, for many trolls my weight disqualifies me from having an opinion – I should simply stop eating and be a free target for their dark and evil abuse.
Not a chance. That's not who I am. I'm stronger than all of that. I'm a survivor.
My father abused me mentally, emotionally and physically from the age of six. For almost two decades I was bullied by the person supposed to care for me. I played tennis. I suffered PTSD. Depression. Anxiety. In 2006 it all got so big I contemplated taking my own life.
Such things are hard enough to cope with for any poor soul, but when you're in the public eye – whether you want to be or not – it makes it almost impossible to be honest about what you are facing.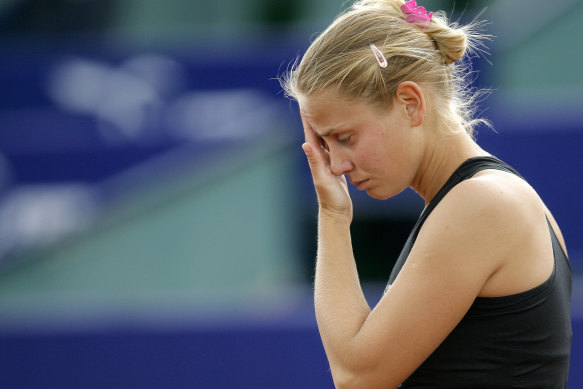 Jelena Dokic during a match in 2009. Credit:AP
But when I quit tennis and wrote my book, I discovered there is strength in being vulnerable. In being completely open. The day my book came out was the best day of my life. The weight of what I'd been carrying was suddenly off my shoulders. My truth was out there.
I soon realised there were so many other women suffering like I was. Different details. Same truths. And sharing my vulnerability was giving them strength. A community of protection, of shared experience, of grief, but above all hope.
Women got in touch saying they were suffering in domestic violence situations, from depression, anxiety, abuse, and that I had given them hope and made them feel less alone. They thanked me for having the courage to share my story in a public space. They didn't have a voice, so they thanked me for mine.
And with that came responsibility, as I saw it, to continue the community, so I started an online presence where I share my experiences in a small pocket of cyberspace and provide hope for those who have lost it. I can help people realise they are not alone in their suffering, and with strength you can get through anything, just as I did.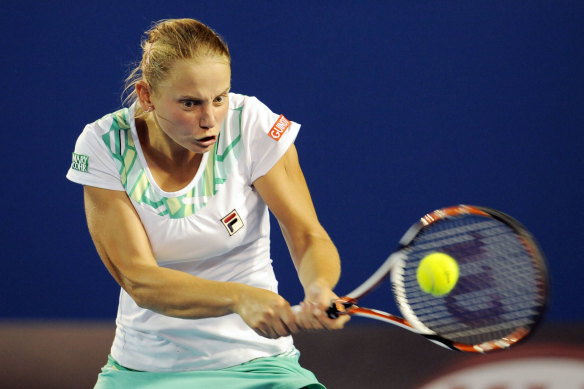 Dokic at the 2009 Australian Open.Credit:Fairfax
But the online world is very different from writing a book. The trolls come for you. They make the battle so much harder to fight. No matter how often you read their abuse it makes you sad. Even when you have as thick a skin as I do, when someone tells you that you should kill yourself you wonder how humanity can conceive of such thoughts and how society allows platforms where such thoughts can be shared, unpoliced and unpatrolled.
But that's not my focus, my focus is helping survivors know there is hope. I made it, and so will they. Because we have each other. My focus is to also take a strong stand against online abuse and set an example for the next generation of young boys and girls, who are stepping into a world where online bullying is sadly such a big part of their lives to navigate. I'd like to encourage and educate them on what's not OK, and how to deal with it. I'd also like to pose this question: How can we make people accountable for this behaviour with the authorities, and force the social media platforms to put better measures in place to stamp out this activity?
In the meantime, I will wake up in the morning, check my phone like most people, perhaps a quick look at the weather, and then head off to the Australian Open to do the job I love.
Please let me do it in peace.
Crisis support is available from Lifeline on 13 11 14 and Beyond Blue on 1300 22 4636.
The Opinion newsletter is a weekly wrap of views that will challenge, champion and inform your own. Sign up here.
Most Viewed in Lifestyle
From our partners
Source: Read Full Article